Wylie Beckert
Illustration + Fine Art
REIGN OF SIN + RULE OF VIRTUE
ILLUSTRATED PLAYING CARDS
---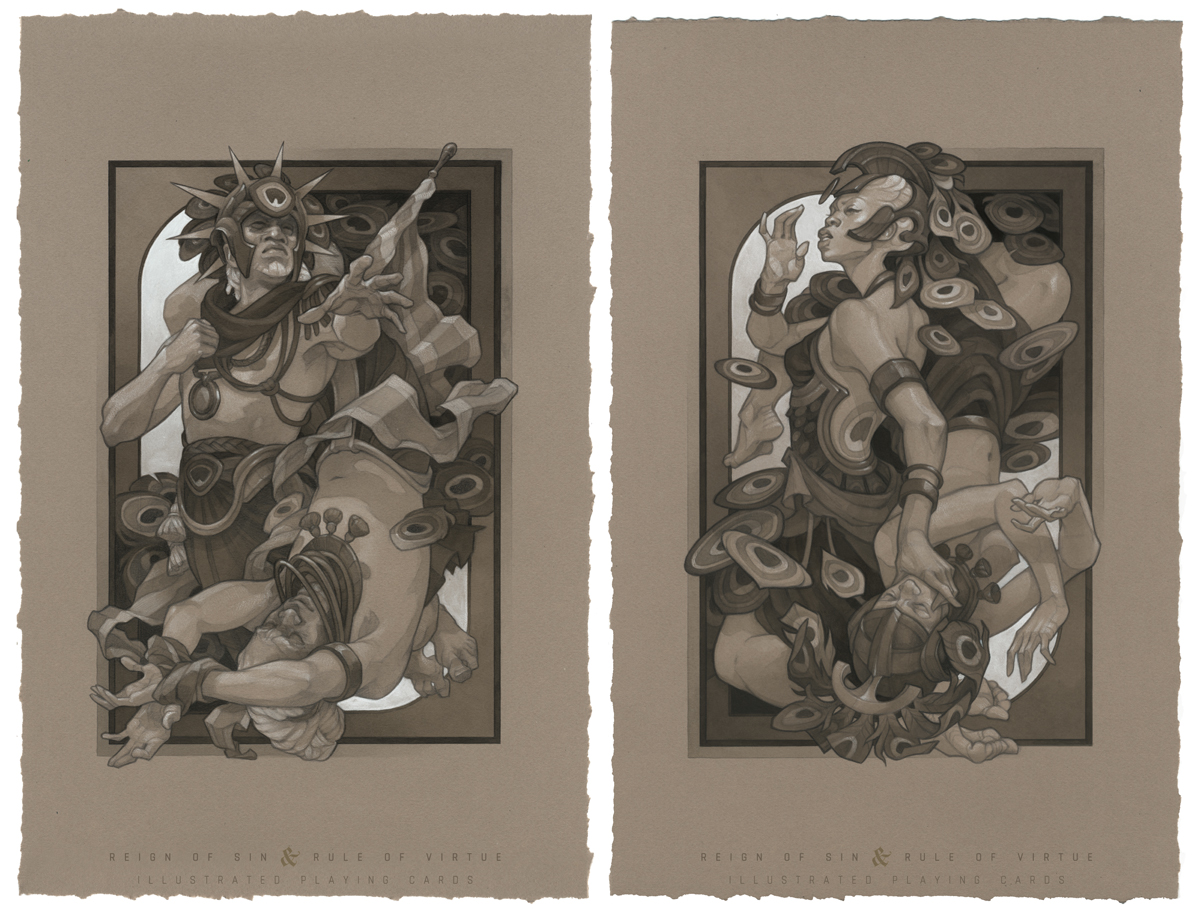 Our once-great empire has reached a perilous crossroads; from here, history could unfold either for good or for evil. Glimpses of our ever-shifting fates are revealed to us in the conflicting visions of two rival prophets... let us pray that it is not too late for us to decide which form our future will take.

After launching my first playing card deck, Wicked Kingdom, on Kickstarter, I realized that my adventures in playing card design had only just begun. This time around, I'm creating something even more opulent and outlandish: two distinct but interconnected card decks, one dark (REIGN OF SIN) and one light (RULE OF VIRTUE).

Each of the eight hand-painted suits explores the many facets of a deadly sin (Pride, Envy, Greed, Wrath) or heavenly virtue (Humility, Wisdom, Diligence, Patience) through elaborately illustrated, dual-identity face cards. Each card's tale is revealed through snippets of narrative that weave together to reveal a larger prophecy (readable in tea leaves, bird entrails, and in the gallery below!)

The card decks are still in the making; the complete, playable poker decks will be released via Kickstarter in late 2018. You can watch for updates on Patreon or Instagram, or join the mailing list to get notified when the decks are available for purchase.


WHY TWO STYLES?


Stylistic changes are underway! Eventually all of the artwork will be updated to reflect the new look.

In the meantime, please forgive the chaos.
---
---
PART I
Reign of Sin: The Dark Prophecies
pride, envy, wrath, greed
I have foreseen dark things for this empire.

pride ♣ clubs
---
PART II
Rule of Virtue: The Light Prophecies
humility, wisdom, patience, diligence
You speak of dark portents, but I too have read signs in the flights of birds, the turning of the stars, the births and deaths of animals. And I tell you that in my own visions I have seen very different things...

HUMILITY ♣ clubs
WISDOM ♥ HEARTS
---
---
- ♣ -
PRIDE: THE KING OF CLUBS
NATIONALISM
PAINTING | 11x17" ink and pencil on paper. DRAWING | 9x12" Col-Erase on Bristol.

ORIGINAL ARTWORK AVAILABLE FOR PURCHASE HERE.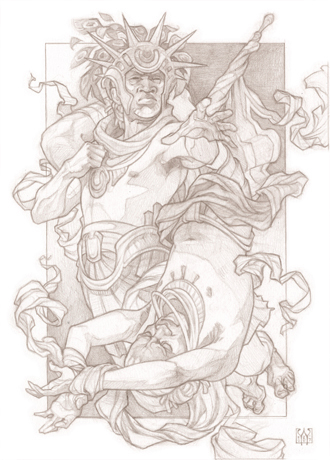 NARMURIUS THE UNYIELDING:
whose banner casts its shadow over many lands.
" In my vision, I found myself amidst one of the many garrisons of Narmurius the Unyielding. All around us, from every tree and tent and horse, hung banners - so many banners that, were their colors more spirited, I might have mistaken the encampment for a village caught up in the celebration of some ostentatious festival.

Here, though, each banner bore the black club and watching eye of the emperor's seal, and a less celebratory atmosphere would have been difficult to imagine. Everywhere was a sense of guarded unease; among the soldiers, where one might expect to hear snatches of song and raucous conversation in a dozen tongues, there were only lowered voices. Not a man among them called his companion "brother," and each eyed the others warily.

'It is strange,' remarked my own companion, 'that so tall a man would be so insistent in his desire for others to bow low before him.' But he made this observation quietly, into the dirt, for above us Narmurius was passing by. "
---
- ♣ -
PRIDE: THE QUEEN OF CLUBS
SELF-IMPORTANCE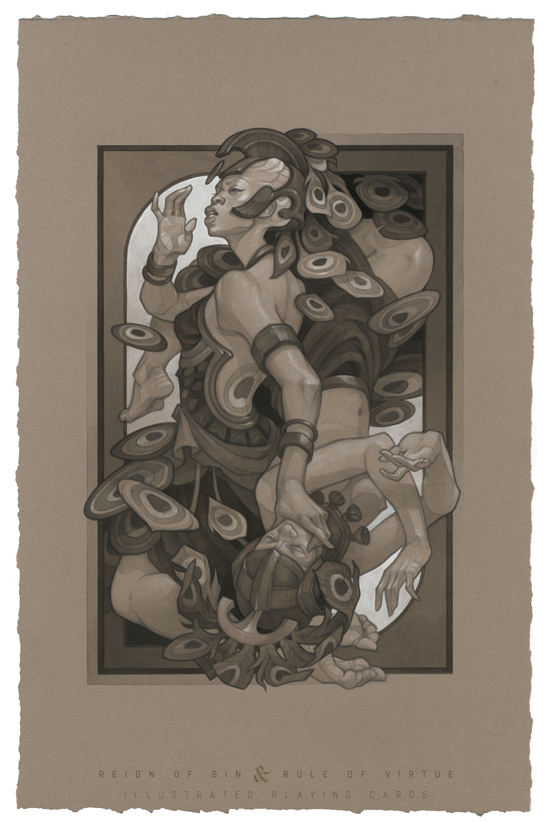 PAINTING | 11x17" ink and pencil on paper. DRAWING | 9x12" Col-Erase on Bristol.

ORIGINAL ARTWORK AVAILABLE FOR PURCHASE HERE.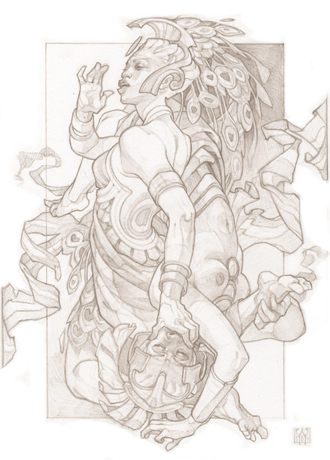 NEPHEMET THE REKNOWNED:
a self-important braggart with a perpetual target on her back.
" In my vision, I walked the market streets of a populous city. As the noon bells rang, a host of heralds took their places atop the minarets bordering the square, and as if in one voice, raised a great cry that boomed and echoed off the stone buildings such that no one within a dozen miles of the city could have failed to hear it.

I had heard such heralds in other cities for song or prayer, but as I listened, I realized that this particular faction cried out in celebration the glory of Nephemet The Renowned. For many long minutes, we were regaled with the hundred ways in which the city had prospered under the rule of the queen; if the criers were to be believed, each fish that leapt in a net, each child born healthy, and each stalk of wheat that pierced the soil to stand in the sun did so at the queen's behest.

The racket was such that all attempts at barter or conversation had to be abandoned; as the day was hot, we waited out the recitation under the shade of a market stall where a vendor was laying out her scanty wares. As the bells rang a second time and the din subsided at last, the woman spat on the ground. 'Thrice a day since I came to this city have I heard such praise, but I have yet to behold these wondrous works of Nephemet the Overblown with my own eyes.' Feeling the gaze of a liveried guard fall upon her, she added, 'Though the harvest under her rule has indeed been a fine one!'

As the bustle of the market resumed, my companion and I moved on. 'I have known many who believe they can tell the story of their own deeds,' he said. 'It is a wonder to me that they never seem to hear the true authors of their histories whispering at their backs.' "
---
- ♣ -
PRIDE: THE JACK OF CLUBS
NARCISSISM
PAINTING | 11x17" ink and pencil on paper. DRAWING | 9x12" Col-Erase on Bristol.

ORIGINAL ARTWORK AVAILABLE FOR PURCHASE HERE.
THE SCULPTOR SORIS:
At once the beauty, and the beholder.
" In my vision, I was favored with a visit to the gardens of the renowned sculptor Soris, who was said to breathe life into marble. The man's talent was widely known, despite his young age, and it was a sorry palace indeed that was not graced by at least one example of his statuary.

As my companion and I wandered the sprawling grounds, with Soris's exquisite creations towering all around us, I too was struck by the transcendent beauty of his artistry. Strangely, though, my companion made only the most noncommittal of noises as I exclaimed over the elegance of the lithe figures and graceful drapery wrought in stone.

After a time, it struck me that although the statues represented all manner of ancient gods, fallen heroes, and kings of old, each of them bore the same face - a youthful countenance, handsome, proud, perfect. When we came at last to the workshop in the center of the garden where the artist himself was working, I felt I already knew his visage well. Although the likenesses in the garden were striking, the perfection of marble had failed to capture the peculiar emptiness of Soris's eyes; it was as if, having found the thousand wonders of the outside world lacking, he had abandoned such paltry sights and instead turned his gaze inward.

We exchanged brief pleasantries, and he accepted graciously enough the praise that I lavished on his craft; but before long, the conversation seemed to have run its course, and his attention wandered back to his work. Eager to see such mastery in action, I did not begrudge him this disregard; for under his clever hands the face of a youth was emerging from a block of marble - handsome, proud, perfect, without the slightest hint of emptiness to its eyes. "
---
- ♣ -
HUMILITY: THE KING OF CLUBS
DUTY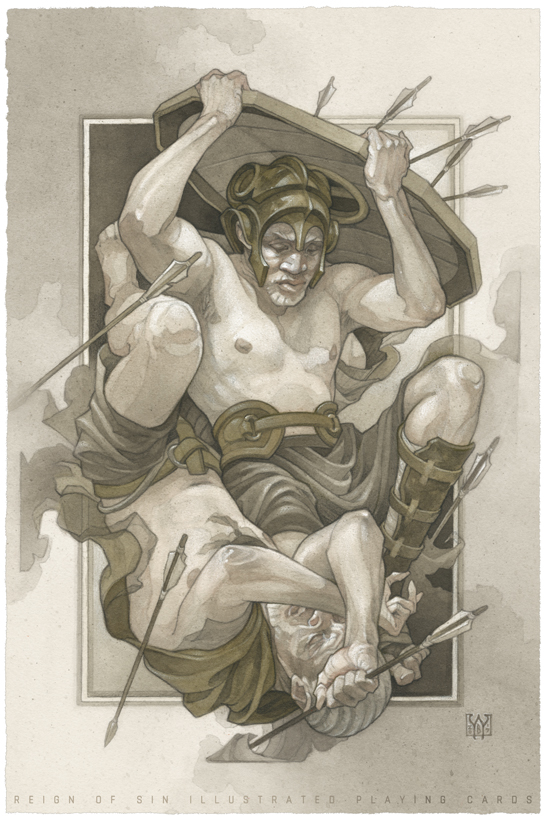 PAINTING | 11x17" ink and pencil on paper. DRAWING | 9x12" Col-Erase on Bristol.

ORIGINAL ARTWORK AVAILABLE FOR PURCHASE HERE.
NARMURIUS THE UNWORTHY:
no better than the rest of them.
" In my vision, I found myself amidst a great assembly, and by the multitudes in attendance, I knew it to be an occasion of great significance. On a dais before the crowd, a nobleman was stripped of his magnificent armor and fine robes, and divested of every piece of gold and adornment that he wore. A dozen chests containing the unfortunate man's personal goods were relinquished to a solemn flock of clerics, who indiscriminately distributed the costly wares within to the gathered crowd.

In the place of this finery, he was given an austere garment to wear, and a rough helm of some base metal that gleamed only by the polish of much handling, for it was old, and worn, and apparently quite heavy. The nobleman was not a young man, and he sagged slightly under the weight of the thing, but bore it without complaint.

At first I took the proceedings to be a cermony of exile, or the exactment of some harsh legal penalty; however, my companion, admiring a newly-acquired sash of exquisitely woven fabric, informed me that this was in fact the coronation of a new king.

'In this land it is held that in order to rule justly, a king must have no interests but those of his people; no stake in worldly goods or personal alliances to put before the livelihood of those who owe him fealty. The burdens of his people are his to bear; he will guard them and serve them until the end of his days.'

And so it came to pass that I was witness to the crowning of Narmurius the Unworthy... "
---
- ♣ -
HUMILITY: THE QUEEN OF CLUBS
DEFERENCE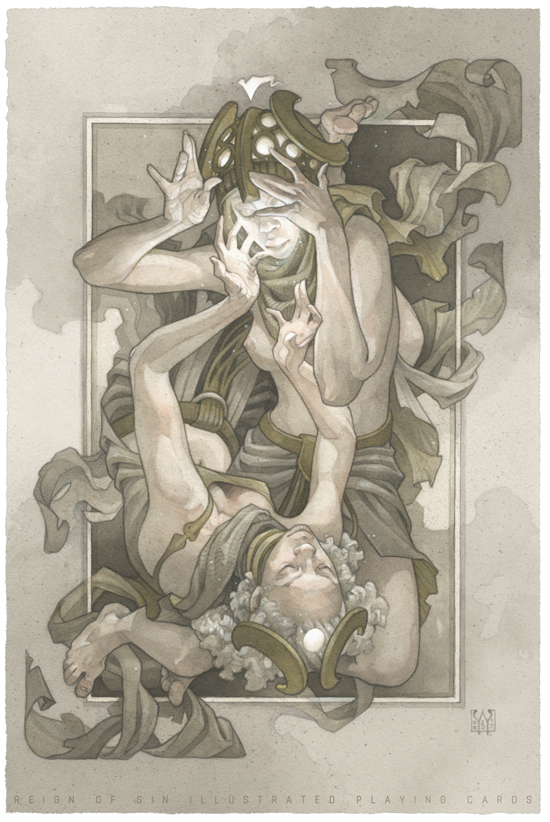 PAINTING | 11x17" ink and pencil on paper. DRAWING | 9x12" Col-Erase on Bristol.

ORIGINAL ARTWORK AVAILABLE FOR PURCHASE HERE.
NEPHEMET THE UNSUNG,
whose work is done in the shadows.
" In my vision, I travelled a long road through rough terrain - a harsh journey, but whenever some small misfortune befell my company, we found ourselves aided by others upon the road. My attempts at thanks were dismissed out of hand; each traveller, it seemed, paid us only such kindness as had been offered them by another; and just as these kindnesses had been given with no thought of renumeration, so in turn they gave them to us. At the start of the journey, most of these souls spoke of the kindness of strangers; but as we travelled further, their stories began to coincide in such a way that it seemed they all described a single individual. The further our journey progressed, the more certain the descriptions became: a woman, or perhaps a girl, clad in a silver cloak and starry crown. By the time we left the mountain passes for the lowlands, I had a name to put to this vision: Nephemet, or perhaps Nereiet - as we travelled a road where many dialects mingled, our various protectors seemed unable to reach a consensus on this point.

As we approached the lights of a distant village, dusk was falling; in the darkness, the wheels of our cart somehow contrived to wedge themselves amongst the tree roots that latticed the muddy track, and we found ourselves hopelessly mired less than an hour's ride from warmth and shelter.

To our delight, we spotted the faint glow of a lantern approaching; the beggar woman who found us proved handy with her staff and her shoulder, and soon our cart was on solid ground again.

Although I had become accustomed to having my gratitude brushed away, I thanked the woman profusely. Instead of deflecting the praise, as most we encountered had, she instead indicated the lantern she carried. 'A light in the darkness will serve only to blind, unless it finds a form to fall upon to give it shape and meaning. Better that I extinguish my lamp than hold it proud of those who might be illuminated by it.' With this strange observation, she went on her way.

'Though the custom is largely forsaken in these lands," my companion remarked after she had gone a little ways, "There are those who might advise you to kneel in the presence of a queen.' Bewildered, I looked after the retreating figure - holding high its lantern, shapeless beneath the tattered cloak that was, in truth, more gray than silver.

'Many before us have stood in the light of Nephemet the Unsung,' he continued, 'But this does not make the honor any less great.' "
---
- ♣ -
HUMILITY: THE JACK OF CLUBS
SHAME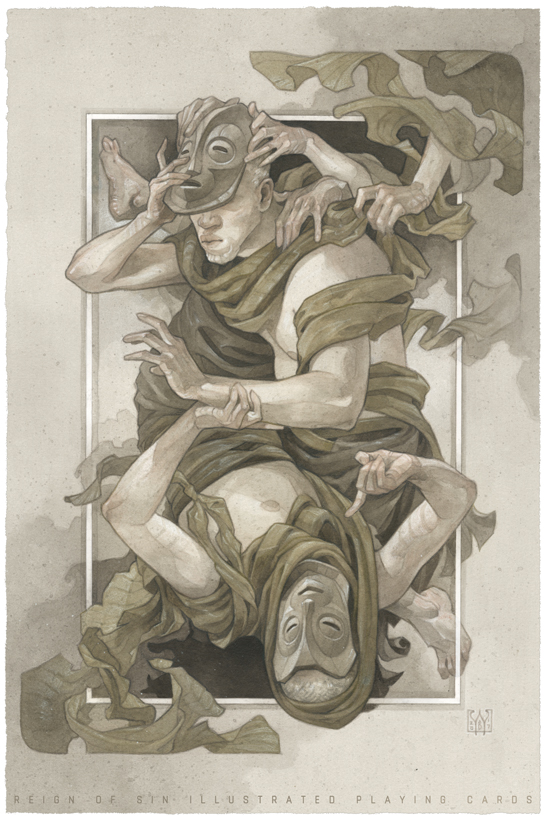 PAINTING | 11x17" ink and pencil on paper. DRAWING | 9x12" Col-Erase on Bristol.

ORIGINAL ARTWORK AVAILABLE FOR PURCHASE HERE.
?
one face among many.
" In my vision, I came to a great marble pavilion; I might have taken the imposing building in whose shadow it lay for a palatial courthouse, but by the garb of the people who milled about it, it seemed more likely to be a monastery. Nine men of every ten in this crowd of hundreds were swathed in enveloping robes of plain, heavy fabric; their faces were hidden behind carved wooden masks, each one identical in its simple design, but beautifully crafted.

Winding our way to the center of the crowd, my companion and I came upon a broad reflecting pool; stone steps spiraled up from its edge to meet a raised platform at its center, where a fire burned in a brazier. As we approached, we saw that a young man was being led up the steps in the midst of a stream of silent, masked figures. He was robed as his chaperones were, but his pale face was bare, and his hands were manacled.

"The convict Soris," my companion said. The name was clearly meant to be familiar to me, though I had never heard it. My companion did not deign to enlighten me, though; his attention was fixed on the proceedings above.

For my own part, I hesitated to look on, for a few of the masked figures were stoking the fire in the brazier, and a crowd had gathered below to watch. I did not like to think what horrors I might be about to witness; but my fears - if not my confusions - were somewhat allayed when the young man was unshackled. One of the figures on the platform came forward, and placed in his hands a mask like the one they themselves wore.

The young man held the mask out in his cupped hands, and a dozen hands filled the empty bowl it formed with bundled herbs, dark powders, sprinkled elixirs, and a single ember from the brazier; the young man spoke his own name over the smoldering mass, with a gravity that somehow told me it was the last time it would ever be spoken - "Soris," like an incantation, and the name seemed to feed the fire, for all at once the contents of the mask caught spectacularly with a great gout of flame and smoke. When they were almost entirely consumed, the glowing embers were tipped into the brazier; the still-smoldering mask was quenched in the pool and fitted, by half a dozen pairs of hands at once, over the face of the man, whose name had been... Already it had escaped me, as if I had never heard it at all. A hundred voices spoke at once, in such a practiced harmony that they may well have been one voice; the mouth of the youth was hidden now, and I could not have said if he too spoke the words:

"Those who know the way as if the map was writ within them must not contrive to walk the path alone. There are others who do not feel the pull of an inner compass. Let the hand they would turn to iniquitous acts be stayed by the many hands of the brotherhood. We demand of them no righteousness in their own hearts, only the humility to allow themselves to be guided on a righteous path."

The ceremony concluded, the masked figures flowed from the steps as one, like a flock of starlings, dissolving into the ranks of the many who thronged below. I could not spot the youth among them.

I turned to my companion, who so often had some pithy observation to elucidate the strange spectacles we witnessed, but found him silent; his face was unreadable behind his wooden mask. "
---
- ♥ -
WISDOM: THE QUEEN OF HEARTS
REMEMBRANCE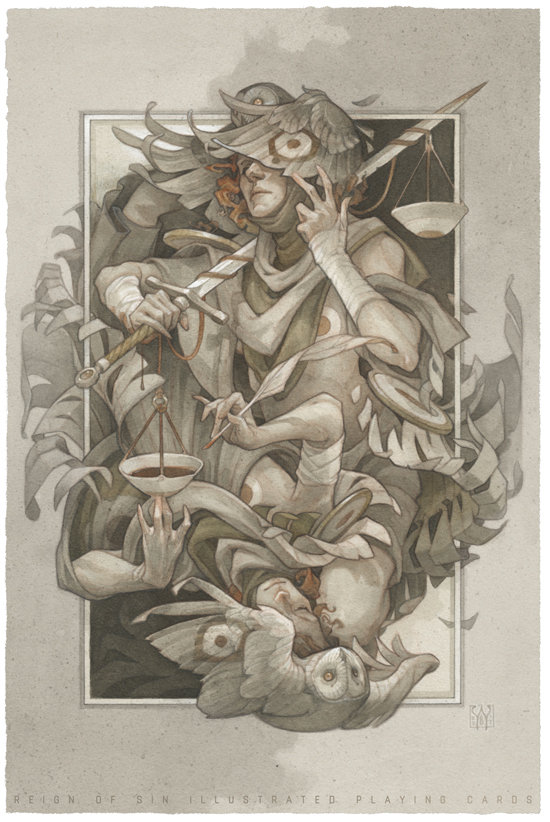 PAINTING | 11x17" ink and pencil on paper. DRAWING | 9x12" Col-Erase on Bristol.

ORIGINAL ARTWORK AVAILABLE FOR PURCHASE HERE.
ADRESTHEMIS THE UNFORGETTING,
a watcher and a judge.
" In my vision, I attended the street festival that marks the passing of the dark night of the solstice in which wrongs are pardoned, debts are forgiven, and slates are wiped clean. Despite the bitter cold, all was celebration: the streets were hung with colored lanterns, and peddlers' stalls offering decoctions of sweet herbs and spirits had sprung up on almost every corner. I traded a vendor a few coins for a taste of the elixir, though my companion declined to do the same.

Blessed as I have been in my travels, I do not carry with me a full brood of grievances. Even so, after a few hours surrounded by these lighthearted festivities, I found that the revelry was a salve to such small injustices as I had faced throughout the year; I could not see among my fellow revelers any face that I did not recall with fondness, or any hand that had been raised against me. I rejoiced to keep such good company, and captured myself another cup of spirits.

My companion, perhaps seeing the toll that the cold of the night was taking upon me, led me from the festivities and into the warmth of one of the low temples that punctuated the village. Though its interior was a welcome refuge from the chill, we found it untouched by the gaiety that existed outside. There were no colored lanterns here - only somber candlelight and the burning lamp of the priestess who presided before the altar, her back to us, among her towers of books and scrolls. By her silence, and the uninterrupted progress of her quill across the page, I assumed that she had not marked our entrance; though from the gilded cages strung above her, a score of golden eyes watched our progress.

I felt it was a pity that any person, even a member of her order, would be compelled to shun the festivities without - and in my state of drunkenness, I must have said as much aloud, for the priestess addressed us without turning, her quill never ceasing its scratching:

'There are those who would wash their eyes of the things they have seen. They would choose the lightheartedness that comes with forgetfulness, for the weight of experience is a joyless burden to carry.

I do not begrudge them their revels, but do not ask me to join them. Should they ever have cause to revisit such sorrows as they have chosen to leave behind, all that I have seen in the darkness is written here. Were I to close the wounds that experience has suffered upon me, my inkwells would soon be empty.'

Stumbling from the temple on my companion's arm, I found that the cold seemed to bite all the deeper after the warmth of the temple. The elixir no longer numbed me; the cup in my hand that had once tasted of some luscious nectar was now unpleasantly cloying on my tongue.

'The sweetness of this drink is not to everyone's liking,' my companion said as we exited the temple, 'Though it is hard to lose the taste for it once acquired. Here in the temples, it would seem, they prefer to drink a bitterer brew.' "
---
- ♥ -
WISDOM: THE KING OF HEARTS
INTROSPECTION
PAINTING | 11x17" ink and pencil on paper. DRAWING | 9x12" Col-Erase on Bristol.

ORIGINAL ARTWORK AVAILABLE FOR PURCHASE HERE.
RANEB THE KNOWING,
"Look inwards."
" In my vision, I found myself among the many pilgrims who sought an audience with Raneb the Knowing. When at last I stood before him, all the many questions I had intended to ask fled my mind. Foundering, I grasped at the nearest subject at hand - the long journey we had undertaken to reach his palace convent - and broached the topic of travel. I hoped he might reveal how the places he had seen had shaped his understanding of the world. I could not have foreseen the laughter that met my inquiry. Seeing my confusion, he led me by the arm to a window overlooking his lands to the east.

'Do you see that stand of cypress?'

I saw it - perhaps ten miles off, just forward of the point where the swell of distant mountains swallowed the horizon.

'That is the farthest my travels have taken me - the lands beyond are unknown to me. But are they any less unknown to you, who have walked a hundred leagues of them to beg my counsel?"

I had to admit that of the lands I had passed through on my journey, I knew only the barest details - the names of a few towns along the way, and some trivialities of culture and customs gleaned from conversation with those who lived there.

'It is no matter.' A wave of his hand dismissed my ignorance. 'Even if you were to devote your life to the scrutiny of the patch of earth you can see from this window, you could never claim a complete understanding of it - the machinations of each particular creature that burrows beneath it, and the path of each leaf that falls upon it. The world is vast, and there is is no depth of study that would allow a single scholar to grasp all of its mysteries.

If you would seek understanding, look inwards - for you contain your own mysteries, but also your own answers. If you would know only one thing, know yourself. Cut away the obscuring shell of ignorance with the sword of understanding, and burn away self-deceptions with the fire of truth. Within is the only land over which any man may hold his own dominion.'

As I left the palace, I was hailed by my companion, who had declined to accompany me into the king's audience chambers. 'I hope whatever dilemmas you brought before Raneb have been resolved," he said. 'Though his advice is held in high regard, I am told that many pilgrims leave his presence no wiser than when they entered it.' "
---
more to come...
The card art is still in progress; the complete, playable poker decks will be released via Kickstarter in 2018; in the meantime you can join the mailing list to get notified of the launch, or show your support on Patreon.
---