New Work: Tam Lin Posted on 18 Feb 2014
---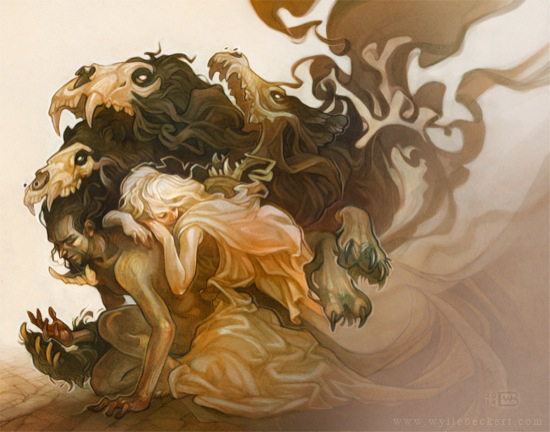 Here's another piece created for the Month of Love blog - the theme for week two was "favorite love story." I don't usually go in for love stories - they tend to have a sameness to them (generally ending in bland wedded bliss - or tragic, if predictable, death - for all parties) that bores me. The legend of Tam Lin (a Scottish ballad, I like this version by Anais Mitchell and Jefferson Hamer) is one of the exceptions that I really like since, unlike your run-of-the-mill love story, it features an uncommonly cocky heroine and a lover transformed into a lion and wolf and bear (oh my).

Sadly, as is the case with so much of my personal work, there is no pretty set of thumbnails to share (although I can't pretend I wasn't tempted to fake a few after the fact). If you're curious what my thumbnail sketches actually look like at the early stages - the "I have no idea what I'm doing and my art license should be revoked" stage - this is it.


They are terrible to behold.
It probably goes without saying that none of these monstrosities particularly captured my sweeping vision for the piece. It was one of those concepts that was either going to look good as a final image, or it wasn't; I eventually gave up in annoyance and started drawing the way you're always told not to - by drawing a face in the middle of the page and building everything out from there. I got lucky and ended up with a piece I actually really liked.
The original pencil drawing. Compare it to the final, and you'll notice that I upcycled background elements from
my Whispers and Full Blooded pencil art out of sheer cussed laziness. Personal work FTW!
More good luck: over the course of this illustration, I stumbled across an awesome reference app for iPad,
Skulls by Simon Winchester
- which has something I've always wanted - 360° rotatable views of just about every animal skull you can think of and a few more that you can't. It has a few flaws as an art reference - the skulls snap back to their default rotation after a few seconds, for one, and the view rotates only in the horizontal axis - but everything is lit beautifully, and being able to visualize how all the pieces of the skull fit together in three dimensions makes this far and away superior to photo reference.
While I don't plan on packing my portfolio to the gills with animal skulls, I'm looking forward to having this app around for everyday use - I generally start animal drawings by trying to get a hang of the skull's structure, which often makes the difference between a vaguely accurate representation and something that looks like a toilet paper tube taped to the end of a milk carton.
I didn't have the sense of planning to stumble across this app
before
I drew all the skulls for this piece (naturally), but I know the next time I have to draw a two-headed calf, say, or an armadillo lizard, I'll be SET.
OMG, there are things out there that look like this on the inside.
Full view in the
gallery
; more favorite love stories over at the
Month of Love
blog.