Month of Fear - Demons Within Posted on 16 Oct 2014
---

Another challenge for Month of Fear: "Demons Within." It's acrylic ink over pencil & white charcoal on toned paper (below), finished out with some slapdash digital color (above). Adding it to the pile of Things That Need Oil Paint.

...and what's that you ask? Are prints available? Oh yes they are.


The underpainting.
I've been posting some progress shots of my Month of Fear pieces (along with whatever other non-NDA projects I'm working on) to my
Instagram
feed. You ARE following me on Instagram... aren't you?
Month of Fear - Banshee Posted on 02 Oct 2014
---

Month of Fear is on! Artist Kristina Carroll has once again rounded up a herd of illustrators for a series of weekly art challenges all October long.

My piece for this week's challenge ("Things That Go Bump") is a banshee; it's a 16 x 21.5" pencil drawing with some perfunctory digital tinting added. I'm thinking of revisiting this one as an oil painting (or at very least a more finished-out digital version), but at the moment my drawing board is thoroughly buried in commissioned work and so it will have to wait.


The pencil art in progress.
New Work: Tam Lin (traditional media) Posted on 23 Sep 2014
---

I am a pathological recycler, especially when it comes to art. While it's always exciting to tackle a new idea, the amount of planning I like to put into the early stages of an image can make the process prohibitively time-consuming for personal work (which is always a struggle to squeeze in among the projects that pay the rent). Revisiting my older work strikes a nice balance - I get to apply new skills, knowledge, and media to a piece without the looming uncertainty that comes with planning a whole new concept from the ground up.

My latest painting is one such recycled idea. My original take on the Tam Lin legend was a digital piece, created back in February for the Month of Love blog. The pencil underdrawing was small - around 8x10" - and the painting was pretty rushed; at the time I created it, it was my favorite piece, but nonetheless it had a few problems, and I always intended to revisit it. Since I've been trying to get into doing more traditional media work, I ended up tackling the new version in acrylic and oils, and on a much larger scale (around 18x24".)


On the left: digital, February 2014. On the right, acrylic and oil, September 2014.
This was a pretty complete overhaul, since I knew I didn't want to create an exact replica (because really, who wants to paint the same thing twice?) so I played with the poses, the scale, and the decorative elements of the flowing cloak and the background. I started more or less from scratch - new pencil underdrawing and all.
After sinking 20-odd hours into the pencil underdrawing for this piece, wild horses couldn't have compelled me to put a brush to it. As usual, my local giclee printers came to the rescue, reproducing the sketch onto tinted paper which I then mounted on illustration board. I used white charcoal pencil to heighten the drawing and add fine details, then layered acrylic inks, colored pencil, and oil paint to build up the final image.
Working over a reproduction of my pencil sketch.
I was glad to have the recent traditional-media experience of working on my
Cold Wind
and
Colder Wind
paintings - I learned quite a bit over the course of both paintings, and things went a little more smoothly this time around. I documented the whole process pretty exhaustively, so a blow-by-blow breakdown of the piece (and maybe even a video!) will be coming in the near future.
I'll leave the final judgement on which version is the "better" one to the viewer; each piece has certain aspects I like, and certain other aspects that will continue to haunt me (although probably not enough to compel me to paint a third version). Either way, it was a fun project to take on and I don't regret the extra time I put in on this one.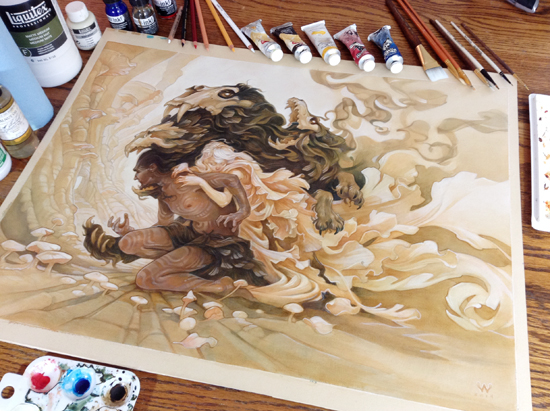 My working process, my style, and the quality of work I'm able to produce has evolved considerably in the past year, and as a result I'm left with a number of pieces which, while I still love them dearly, are no longer relevant to where I'm headed with my art. It's left me wondering which piece I'll be revisiting next.
Whispers,
I've got my eye on you...
New Work: Colder Wind Posted on 16 Sep 2014
---

Here's something exciting that went onto my easel immediately upon my return from IMC - a (traditional media!) painting created for the newly-launched ArtOrder Artists Series. A limited-edition print run is in the works for this painting; I'll update with a link here as soon as it's available for purchase; in the meantime, you can visit The Artorder for some background on the project and what it's all about!

I put together a complete write-up of the process, including all the process pics your heart could desire - check it out (along with the finished piece!) HERE.
New Work: Bottle Quest Posted on 12 Sep 2014
---

If this piece looks familiar, it's because it's based on one of my sketches from long ago. I like revisiting old ideas - having some of the kinks worked out in advance makes the process kind of like assembling an illustration from a do-it-yourself kit in an afternoon... especially now that the passage of time has granted me slightly better rendering skills, and a slightly better idea of how a face is assembled.



In other news, Illuxcon is upon us again! I'll be exhibiting my work in the showcase (the evenings of Friday, September 19th and Saturday, September 20th) - I've got a couple of new traditional paintings along with some of my original pencil art, a handful of tiny drawings, and my usual binder of digital fare. Come visit me if you're in Allentown!