COLDER WIND
painting process
18.5" x 24" Mixed media (acrylic, white charcoal, and oil) on illustration board.
[UPDATE: This painting is now available for purchase as a limited-edition print through the ArtOrder Artists Series.
Prints are priced for pre-sale at 20% off this week only, so make haste!]

Here's my latest piece - the culmination of the last few months of traditional media experiments and my continuing quest to translate the look and quality of my digital work into paint. I think I've finally (finally!) hit on a combo of tools and techniques that gives the all-important pencil art the same weight that it has in my digital work.
---
the concept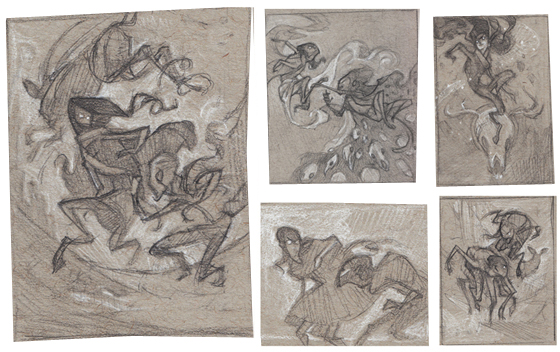 Initial concept thumbnails
This piece was originally born out of an assignment for Illustration Master Class: to create an illustration for Nicola Griffith's shapeshifter tale "Cold Wind." The assignment was open-ended, so I chose to focus on themes of animal transformation (deer and jaguar shape shifters squaring off in the culmination of an eons-old hunt) and creating a sense of flowing movement in a dreamlike fantasy setting.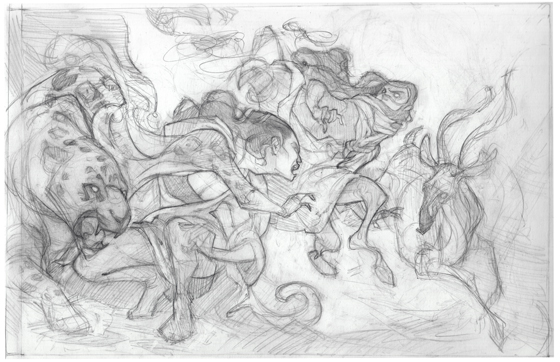 Two possible directions...
I ended up with two rough sketches based on my favorite concepts - I developed the first into an oil painting during my week at IMC (you can find my rundown of the project here) and saved the second in hopes that I'd get the chance to revisit it someday... Happily, that "someday" came sooner than I dared to hope, with the launch of The ArtOrder's limited-edition poster series.

---
the drawing

I wanted to build this painting with layers of transparent color that would allow the line art beneath to carry the piece - so I knew I'd need to start with a highly rendered pencil drawing that would leave very little to chance. I revisited my original sketch digitally - mainly to play with the scale of the figures and add some interest to the empty space that was overwhelming the background.


I transferred the adjusted sketch to the final surface using a lightbox and a brown Col-Erase pencil - using a tinted pencil for the initial lay-in of the final pencil art helped me nail down the details and work in a few last-minute changes before polishing the drawing with pencils, tissue blending, and a lot of work with a kneaded eraser.
Finished pencil art (16x20" graphite on Bristol)
---
the underpainting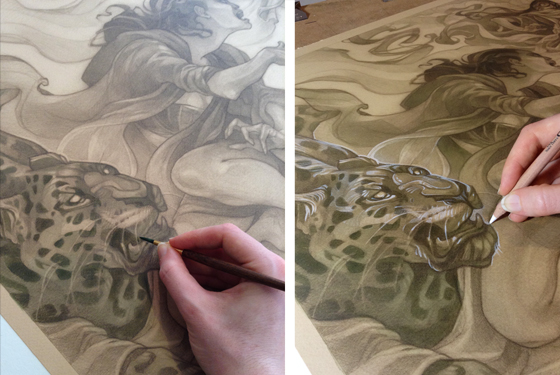 To preserve my original drawing, I used a large giclee of my pencil art - printed on tinted paper and mounted on illustration board - as the base layer. I gradually built up the values using diluted acrylic inks, then worked in highlights, accents, and tiny details using white charcoal and acrylic paint. I also began to add a hint of the colors that would appear in the final image.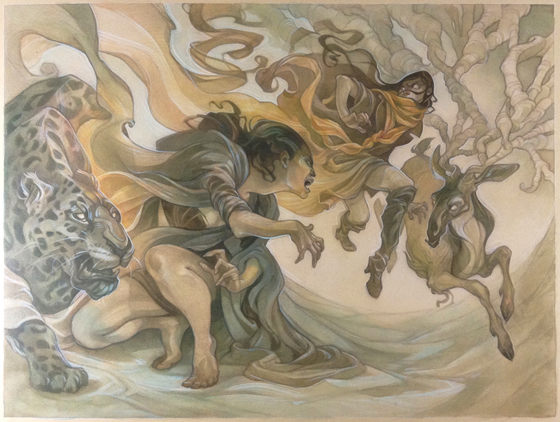 ---
the oil painting
With the underpainting finished and sealed, I moved to transparent layers of oil paint to push the values even further and deepen the colors. While I mostly worked in thin, broadly-applied glazes at this stage, I also took the opportunity to (sparingly) restore some of the lineart to its former glory with tiny brushes.

The first pass with oils - I found the colors a little too dull.
While I'd originally envisioned this as being a cool-toned, greenish-blue painting, it seemed to be missing something; a few glazes brought the piece around to its final gold-toned color scheme, and with a few touches of opaque white to bring back the highlights lost beneath the layers, I called it finished.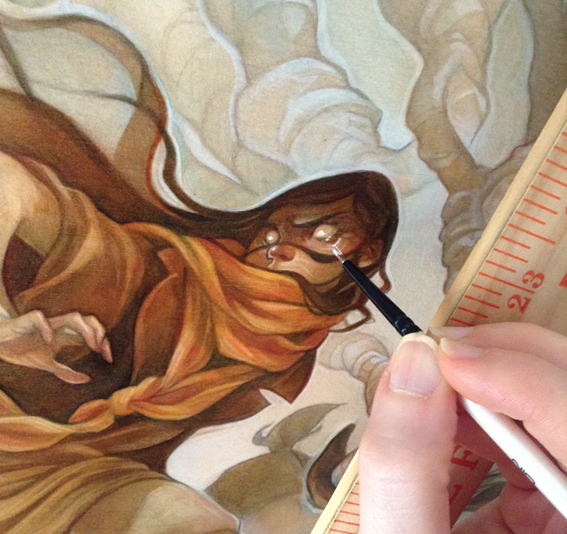 ---
What rocked about this project
Pictured: the complete home Colder Wind assembly kit... Just add 43 hours of painting and 10+ years of art training!
I've wanted to work with Jon Schindehette ever since his original ArtOrder blog got me hooked on illustration (back when I only had a fuzzy idea of what "illustration" was, and no clue at all of how to break in to the industry).

This project turned out to be the perfect combo of wish fulfillment and creative freedom - Jon has the remarkable ability to guide an image in subtle ways that make all the difference, without sucking the life out of the finished piece. What I came out with in the end was my original vision for this painting, only better - and I'm thrilled I got a chance to be part of a project that will (hopefully) help keep the awesome resource that is the ArtOrder available and visible for the next wave of aspiring illustrators.